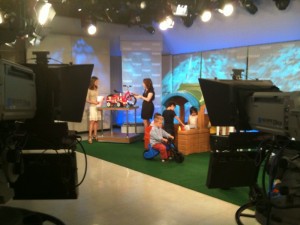 I headed up to the studio this morning with my intern Daniel — after putting toys together for us all semester, I thought it would be fun for him to see the studio and the end result of so many packages, emails and testing. I tried doing my hair this morning–and emerged from the building looking like a bad 1970s "before" picture.  Happily, the hair and make-up people at the show are so terrific, that I knew it was going to be ok.  I think they were even a little shocked by the sheer volume of hair.  Thanks to high def tv, I also think make up takes longer (not to mention that I'm a little older!) than it used to.  It really is amazing what professionals can do.  Everyone emerges from the hair and makeup area a better, more polished version of themselves.
This morning we had about ten kids.  One family has tested for us since their son was born five years ago.  They moved to Hong Kong in between and as I traveled up to the studio I realized that we had never met–so that was fun!  They now have two kids and I'm so happy they're back from their adventure and can resume testing for us! Other kids were on with me about a year ago–so to see them now as full preschoolers was fun.  A new group joined us – I have to say this was the most well-behaved group of kids in the green room.  Their parents were really careful to hold off on the delicious donuts and cookies until after the segment. Smart move.
The challenge was to show toys and equipment for active play –indoors!  The YBIKES were a hit and disappeared when we went to talk about them–but I think they got camera time later on. The Kazam Balance Bike – also great was on the pedestal–and may have been blocked a little by the fire truck. You really couldn't see how amazingly high the Sky Balls bounce in the air–or the 3D bubbles…but trust me – there are fun choices this season.
Half way through the segment one of our testers very politely asked if she could go play in the playhouse…one of those great real live moments…priceless.
Segment over, chocolate donut enjoyed on the car ride home…a good day!
To read the full article about the toys featured, visit www.toyportfolio.com.