Zhu Zhu pets were so hot last holiday season, that getting them for national television gigs took more negotiations than you can imagine.  Having watched many a hot toy come and go,  it's always interesting to see how toy companies try to keep the craze going. Cabbage Patch dolls, Furby, Elmo- they've all been there with varying degrees of success. So this year, the sweet and furry Zhu Zhu pets have gone into battle, literally.  The new Kung Zhu Battle Arena is the latest in their line.  Here the pets are now ready to enter the battle arena (sold separately) in varying levels of battle armor (sold separately).  Interesting most of our testers that were in on the Zhu Zhu pet craze last year really enjoyed making their own settings for their pets.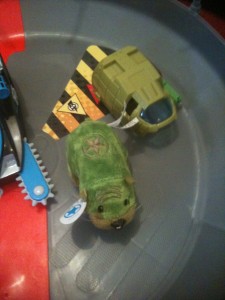 Battle toys are a recurring theme in toyland again (there are a whole host of tops and bugs that battle it out) – so we'll have to see how the Zhu Zhu pets in their current aggressive form stack up.
If this toy is on your child's list, know that the battle arena does not come with a pet. This seems unfortunate to us.  Also if you want the armor to cover the pets that is different from the tanks that goes over the armor.  In other words, there are many layers of defense that you will need to purchase if you're going into this battle.