While I'm not big on generalizations, if you've been in a preschool class you'll see girls taking their time when it's time to draw–selecting their crayons  with a certain amount of care before they start.  Boys tend to go for the big strokes…covering the page seems to be the goal–and as quickly as possible.  There are exceptions on both sides–but over the years this has been my experience with preschoolers and drawing.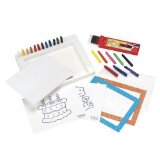 Both boys and girls will enjoy Creativity for Kids new Crayon Rubbings.  The set comes with five rubbing plates (each with a different design) that fit into the platform (that also has a place for standing up the eight included crayons). Kids add the paper to the top of the rubbing plates and can explore the different patterns they can make.  For quick drawers this will be satisfying all by itself…it's almost magical the way the pattern emerges as you add the color.  For more advanced crayon users, you can use their pre-printed coloring sheets (think a coloring book page)…and here you can change out the rubbing plates to achieve different patterns throughout your drawing.
So if you'd like your child (boy or girl) to slow down a bit, explore the process of adding color and pattern–this is a fun toy to explore together.  For 3s and most 4s, this will be something to do together…talk about the process.  We had one tester that only wanted to use one rubbing sheet and fill it up…that's fine too!  While some purists will not love the pre-printed sheets (we're not big on coloring books as a rule), for many kids having a starting place gives them more security.  The blank page can be daunting–even when you're three!
For kids with special needs this is a particular good product. The platform's frame really holds the paper in place (you can add tape for added stability)…but the emerging patterns that they can achieve are really encouraging and satisfying for kids that can not draw more detailed images on their own.  We're giving this one an Oppenheim Toy Portfolio Gold Seal Award and a Special Needs Adaptable Product Award.