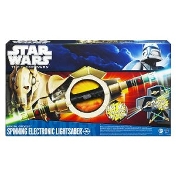 My high school didn't have a marching band and I was a debate geek anyway…but I still always marveled at those baton throwers when I would watch the Macy's Thanksgiving Day parade.  All this combined with my love of Star Wars probably explains my fascination with this new spinning light saber.
Watch my mother's demo while we were waiting for an interview at ABC RADIO. She's pretty good!
Read our complete review of this product at toyportfolio.com.