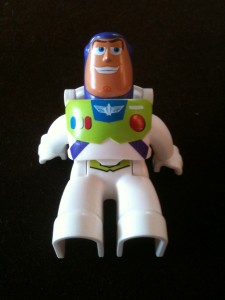 Even though Disney PIxar  Toy Story 3 does not open until June 18th, if you watch any type of TV you know the full court press has already begun.  And we know from our testers, that they want their Toy Story 3 toys!  So we have been super busy this week taking a look at a range of toys–with more promised to arrive next week.
Here's what we've found so far:
1. Crayola Toy Story 3D Chalk – this is a deluxe set with stencils of the characters. Fun, but if you're a four year old boy, this isn't the toy you want. Read our full review.  I wrote about this product before as a great product for outside play.
2. LEGO DUPLO Toy Story 3 The Great Train Chaise Duplo Play Set – Love this set. The pieces are big and chunky and there's something very satisfying about having small versions of your favorite characters–great for on the go play or to incorporate into your block play. This set comes with a train, blocks and four characters. Marked 2 & up–this set will most appeal to 3s and 4s. Your preschooler will need help putting the train together–making this a parent/child toy–but once put together this can be used for independent playtime as well.  This would be a fun addition to a basic bucket set of DUPLO.  Sometimes bringing home a new novelty set can renew your child's interest in building– something you definitely want to encourage.
3. LEGO Toy Story 3 Western Train Chase–  Super set. This set is designed for kids 8 and up…the pieces in it are not for kids under 3–so even if you think it's cooler, it really is meant for older kids.  Take a look at the size difference in the characters.
4. Toy Story 3 Action Links Buzz Saves the Train Stunt Set – Really a one trick pony–actually there are a couple of ways to set this tracks up but the toy is still pretty limited.  Not a lot to do here passed the first three minutes. Your child will probably play with the Buzz figure that comes with the set longer than the train and tracks. Watch our demo.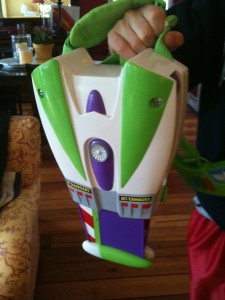 5. Toy Story Basic Buzz Wing Pack– Here's a really neat toy that makes us send out a big warning.  The toy itself is super cool–you strap on the wings to your back and then there's a control panel that makes the wings go up and down AND you can also hear Buzz  say his favorite lines.  All fun and the toy itself does work really well.  BUT here's our serious concern–the toy is design for kids 4 & up – at this stage children are working out the difference between fantasy and reality. While you may poo poo our warning-remember these are the same kids that take the Tooth Fairy as a real magical reality.   If you can't resist this toy–we would high recommend you have many a conversation about this toy with your child. The toy itself has a safety warning on the packaging–not really a deterrent to your preschooler.  I also have a sense that this toy will be purchased for even younger kids.  Ok, you get our point. Watch our video demo.
6. Fisher-Price Toy Story 3 Character Flash Lights.    Pure novelty and great fun for kids that like noise. There's Rex, Bullseye and Dr. Evil Porkchop. When you squeeze their tails–the flashlight comes on (their mouths open) and you'll hear a sound or a phrase (they each say one thing and make one sound). Watch our video.
7. Fisher Price Toy Story 3 Spiral Speedway.  Perfect toy for your two year old.  Older toddlers LOVE making something happen over and over again–and this easy to activate spiral raceway gets it right. This toy has been in the Fisher-Price line before, but now it has Toy Story 3 characters racing (Buzz vs. Lotso)…and sound effects (it is a little noisy).  This toy will have a limited time frame–but it will be a true hit when your child is in the zone of "again, again!"  Watch our video demo.