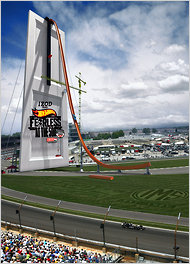 Mattel, marketing its Hot Wheels brand to "older boys",  is pulling out all the stops this year. Take a look at the planned Hot Wheels track at the Indianapolis 500. (Someone is actually going to jump the 90 foot ramp).  I thought they were kidding at toy fair- but it turns out to be for real.
Having spent a good number of hours running Hot Wheels tracks down our staircase as a kid (technically they were my brother Tony's track), I know there are many of us out there that can truly appreciate this stunt. The door will be ten stories high. Yikes. Of course my adult-self wonders what happens to the brand if someone gets injured. Is all pr good?
Cleverly, you'll be able to buy a smaller version of this track for your door at home. The idea is to bring men back to the brand – so this type of real world event (with IZOD as a partner)  is meant not only to wow current Hot Wheel fans but to entice their dads as well.  I guess you're supposed to play with your Hot Wheels  while wearing your Izod shirt.
With pre-event coverage already on espn.com, I'd say they're on the right track. Sorry.
If you want to engage with Team Hot Wheels, you can follow them on their site or on Facebook (they already have over a quarter of a million fans).  I wonder what the average age is on this page.