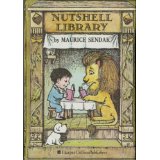 This morning's news that Maurice Sendak has passed away feels like another little part of my childhood has fallen away.  But not in the way you might think. I was terrified of Where the Wild Things Are. I was so scared that I made my parents promise that the book would leave our house. How could they guarantee that the wild things wouldn't come to visit us?  Much to the chagrin of my first grade teacher, Mrs. Bernstein, I told all of my friends at the Book Fair that they should not buy that book!
I was quite surprised as an adult to find our copy of Where the Wild Things Are tucked away in the back of my Dad's closet.  My 6-year old self felt the sting of the moment.  A literary fib on their part?
On the other hand, I LOVED The Nutshell Library. Holding that little box in my hands is one of my first memories of connecting with books.  How could they make such little books with such deliciously fun stories?  Pierre was my guy.  I don't think my folks ever pointed out that the author was the same person who wrote Where The Wild Things Are – in fear that this little gem would end up in the back of the closet!!