We had a fun segment on the Today Show talking about some of our Platinum Award winners. It's always painful selecting the 10 toys to show (turns out we actually had 11!). As we pulled up to the show, Martin Freeman was already at the door – surrounded by photographers and people looking for autographs. I prayed that as my mother and I climbed out of the very high SUV we would not fall with all of those cameras so near by. We exited the car gracefully. You can watch the segment below.

Visit NBCNews.com for breaking news, world news, and news about the economy
Before hand….
While I was getting hair and makeup done, I tweeted that there was a hobbit in the building. Just as I finished, Martin Freeman walked out of his dressing room behind me. I smiled. He returned my smile.  My grandmother always used to tell me "it doesn't cost anything to smile" – he got the same lesson along the way. He was very friendly to everyone. Until I see The Hobbit next week, to me he is still Watson from the BBC Sherlock series. I'm a huge fan.
We had lots of kids for this particular segment. They all were terrific while they waited for our time in the studio. In fact, we were brought upstairs and then the schedule got moved around a bit. They were amazingly well-behaved and calm as they waited even longer out in the hallway.  Here are some of their pics.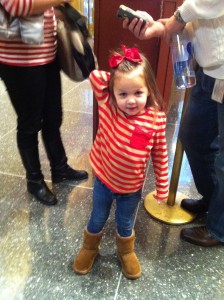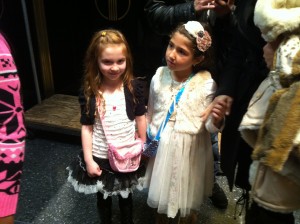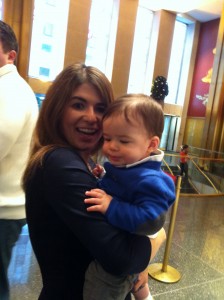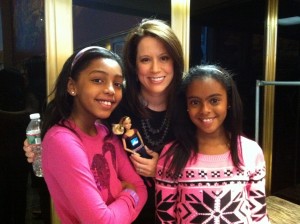 This was the first time I was doing a segment with Willie Geist, the new host of the 9 o'clock hour. He's great…and with two young kids, he's in the toy zone.
Happily we got to talk about some of our favorite toys of the year from Fisher-Price, Wonderworld, Hasbro, North American Bear Co., LEGO, Playmobil, Marbles, The Brain Store, LeapFrog, Silverlit and Mattel. All of our Platinum Award winners are broken down by age with full reviews at www.toyportfolio.com.
After the segment, Willie took a picture with Joanne (who has been part of the WG fan club from his Morning Joe days).
It was a very good day…and I am forever grateful to my mother for taking a risk and starting the toyportfolio with me. She is the most generous mentor and business partner. Our adventure through toyland together is one of the great gifts of my life.