The NYT's article Has Lego Sold Out?seems to start from a hazy memory of the authors' own Lego building experiences. Yes, there have and continue to be LEGO buckets for open-ended building, but the company's mainstay for the last two decades has been themed, instruction-based sets. What has changed are the themes.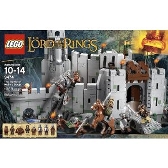 LEGO made a decision that their own castles and space sets were not enough to keep media-savvy children coming to the construction aisle. They took their engineering talents to the world of Harry Potter, Star Wars and most recently, The Lord of the Rings. As someone who has reviewed and covered Lego Systems since the early 90s, I remember feeling sad when the announcement was made that LEGO would enter the world of licensed properties. In the end, it was a move that probably saved the company from the fate of way too many toy companies — but it did not change the building experience.  The key to a good licensed product, is to look beneath the license. Our testers continue to love building these sets and the instructions that come with each set are without equal in the industry.
While we also are avid proponents of open-ended play, we know that school-aged children learn a great deal from following step-by-step directions – not the least of which is the ability to stay with a task. In a culture where everything is instantaneous, this alone is worth the price of the toy. To discount this experience because of a license or a set of directions, ignores the significant benefit of engaging kids in fun activities that do not involve electronics. (Of our school-aged testers, LEGO sets remain the number one request by our families that review products for us.)
It's also not true that building a model from instructions means the toy is void of imaginative play potential. Our LEGO testers not only use their models for pretend play (some even have epic battles between their Star Wars and LOTR characters) — but they use their LEGO pieces for builds of their own.  LEGO's own City and Creators lines are popular with our testers.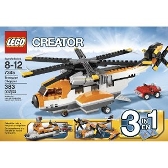 As most toy companies continue to scramble to find a way to remain relevant in the age of APPs – LEGO has uniquely found a way to retain their appeal to children.  Have they sold out?  If they did, it happened decades ago. But from our point of view, they have adapted to their audience without giving up their core building experience that is both fun and educational.