We moved! Did you notice last year that there was no new Tickle Me Elmo? That's because th
e Sesame Street license moved from Fisher-Price/Mattel to Hasbro, but not in time for Hasbro to roll out a new collection.  In the absence of an Elmo novelty doll, last year Fisher-Price introduced Dance Star Mickey. He made our Platinum List.  Our testers loved how he danced not to mention his ability to moonwalk!
This year, here's what you'll need to know:
1. It will be a battle of the Rock Star Mickey and Rock Star Elmo. We previewed both today.
Rock Star Mickey is pretty snazzy!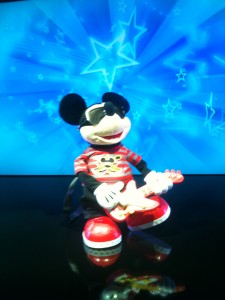 He moves, he sings, he dances…and he can even do a Rock Star split (guitar in hand).  Move over Mick Jagger!  He is also interactive…teaching kids how to rock on! The demonstrator would not play along when it got to the split.
Rock Star Elmo is cute, although he doesn't move the way Mickey does. But I think fans of Elmo will be happy to see him back. In his favor, he plays the drums, a tambourine and he also sings into a mic (all come with Elmo).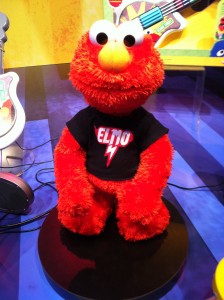 There are also musical toys for your child that also magically sync with Elmo–so that your child can play a small guitar, a small keyboard or sing into a mic — and Elmo will be able to sing along.  Rock Star Elmo will retail for $69.99 (the add on toys are $19.99 each).
We look forward to testing both. Both are planned for fall 2011 release.
2. Cookie Monster.  Ok, I have to admit it…I LOVE Cookie Monster.  I don't really know too many people that don't put Cookie Monster into the favorites category.  This new interactive version, eats cookies.  They disappear into his mouth and then the cookies will reappear in his backpack.  He sometimes counts the cookies…that's fun, but I have a sense just feeding him will be the big pay off.
Watch our video of both at http://www.youtube.com/user/toyportfolio.