On the Today Show this morning there was a segment that  discussed a Barbie doll that had a tattoo on her back.  One expert wondered if she had a tramp stamp (we couldn't really see if she did).   At first, the panel wondered if the doll was really a Barbie from Mattel.  While the issue has stirred up strong opinions all day on the blogosphere, the use of tattoos in toyland is not really all that new.
Temporary tattoos are common at children's events and you can buy many kits from reputable companies that offer themed tattoos.  So I was a little surprised by the uproar.
This new Barbie is for real.  She's called Totally Stylin' Tattoos Barbie. The set includes a Barbie and 40  temporary tattoos that kids can place on Barbie or themselves.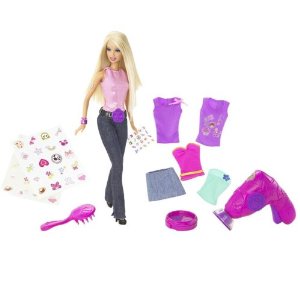 Would this make our list? No.  We're not big on tattoos or role-playing wearing one. Some of this is generational and some of it is just a matter of personal taste. Tattoos fall in the realm of grown-up decisions…and much like our opposition to breast-feeding dolls, we don't think that young children need to role play all aspects of being an adult. On the other hand, there are many young moms with tattoos that may have no problem with this type of role play.
I should note that  Barbie with a tattoo bothers me much less than a  Barbie that has a light-up bustier top (a la Katy Perry) – and I mean literally lights up.  Watch our video of her. Somehow this seems less empowering to me.