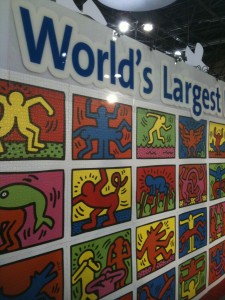 Tomorrow we begin Toy Fair with visits to both Mattel and Hasbro.  This week our mail boxes are FULL of new toys vying for attention at this year's fair.
This one got my attention:  Ravensburger's largest commercially available puzzle (according to the Guinness Book of World Records). Complete with 32, 256 pieces. It will measure 17′ x 6′ –so the family dining room table will be out of the question!
The puzzle features the artwork of the late Keith Haring. It weighs 42 pounds and comes with it's own hand truck!
The puzzle will retail for $299.
For more info, visit Ravensburger.com