I probably love two categories of toys the best…bubbles and things that glow in the dark.  Good news for me, since toy fair was chock full of toys that promised to glow in the dark (sadly, many don't really glow the way you think they should).
But today, the topic is bubbles.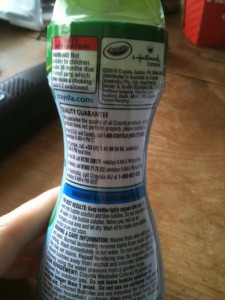 A little back story.  A little more than twenty years ago when I decided that corporate litigation was not going to be my life's work…I came up with two ideas. One, was a company called "Earth Bubbles".  I sat at my desk at White & Case sketching designs for the globe-shaped container.  But I also knew that a product as classic as bubbles needed something unique to grab market share.  So I decided that colored bubbles would be amazing!  Armed with various forms of tints– I went outside with my nieces (happy to play in their brand- spanking new white sneakers and spring clothes)….and you can probably write the rest.
After completely staining everything, being in a far amount of trouble with my brother and sister-in-law…I convinced my mother, who had already written two books on the topic of play, toys and child development…to start another business with me…and that is how the Oppenheim Toy Portfolio came to be.
So, you can now understand my interest in the new Crayola Washable Colored Bubbles.  How did they do it?  I was a little wary of the extensive warning instructions about quality and staining.  (Of course, as someone who used to draft and review such warnings for a linoleum flooring company, I understand the conversation that probably went into this extensive list of disclaimers).
As much as I wanted to really love these colored bubbles, they just don't do it.
What you really need to know…
They're not kidding when they say they are strictly an outdoor toy. The bubbles can stain a whole host of surfaces (basically anything inside your house is fair game).
Now for me that doesn't really take them out of the running. Some things are messy and are still great fun outside.  But the bubbles here don't really have that same "bubble-ish" lightness.
When you blow these bubbles, you get a lot of color. That's satisfying,  but they don't really float the same way. It's kind of like the difference between floaters and sinkers when it comes to matzo balls. It feels as if the color weighs them down too much.  Sadly, this makes this product a disappointment.
You can take a look at our video.  We tried it again on a  wind filled day–but they still didn't act like bubbles.  You'll see in the video that the  bubbles stayed well-formed on the snow for a very long time and the color remained for days.  It did wash off the concrete step but the warning label indicates that you should stay clear of wood (a la your deck!).  I assume this also would mean to keep it away from outdoor furniture, stones, etc.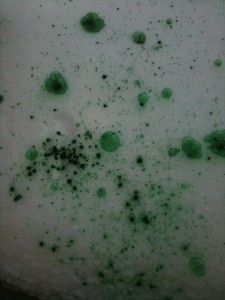 We were told at Crayola that it will come out clothes, but I wonder from my own experience how to get it off sneakers!