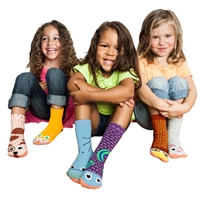 You won't find these animal-themed mittens or socks in the toy aisle, but they are wonderfully playful! We love the idea of kids having different animals on their feet that can speak to each other. We received a three pack of socks ($14.99) that included: Shark vs. Penguin, Lion vs. Tiger and T-Rex vs. Triceratops. There are also delicious booties for older babies and toddlers…Cat vs. Dog, Owl vs. Mouse, T-Rex vs. Triceratops. The booties are sooo soft – you'll be jealous that they don't come in your size!
The mittens (available in adult sizes), recently spotted on Anne Hathaway, are equally adorable.
We wish they were lined with the same material as the booties. We received a pair with Frog vs. Fly. These do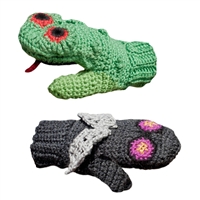 come in adult sizes – proving that you don't have to be a child to be super playful!
A fun company. Check out their website at www.hoorayhoopla.com