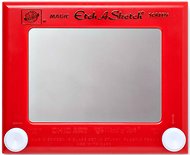 One of the most challenging toys of my childhood took center stage yesterday with a gaff by one of Mitt Romney's advisors.
I used to marvel at my older brother's ability to really draw things with Etch A Sketch. He  could make those curves work for him. I was pretty good at….boxes.
The New York Times today tried to spin the Etch A Sketch moment in to one of second chances.
Even as someone who played with the Etch A Sketch in the backseat of our car (long before there were Gameboys and DVD players), I can't see this characterization as anything but a stretch.
The Etch A Sketch is not a toy that has kept up with the times. Over the last two decades of covering toys, I've visited the showroom in hopes that there would be some radical new innovation that would give this beloved toy a true second chance.  There have been mini versions, glow-in-the-dark frames (sadly, the actual drawing part never glowed) and glitter versions….but no big breakthrough. My kids were willing to play with the keychain version I carried for years…but with all of the high tech hand held toys to play with, the little red frame just didn't do it.