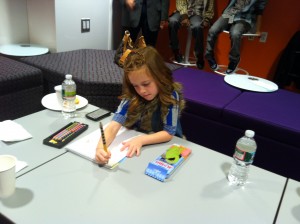 This morning we kicked off our 2012 toyportfolio.com Award List on the Today Show.  To read about the products featured today, visit toyportfolio.com. Because the segment was geared to older kids, the green room (recently spiffed up) was quieter than our usual segment with babies and toddlers. Above Gabriella uses some of the eeBoo art supplies featured in the segment.
Three school friends also hanging out in the green room.
Before our segment, the girls went to the studio. They got to see all the people involved in making the show happen.  It really takes a village!
Here's a glimpse of what happens right before we go on.
To watch the segment visit, Toys that Teach.